Chinese Excellerated Programs – Your Gateway to Asia!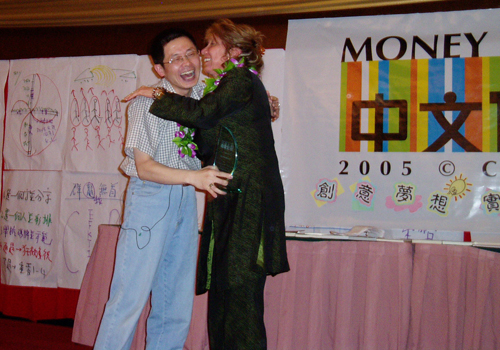 One of the biggest benefits of attending a Money & You® – or any other Excellerated Program – is that you are automatically a part of a worldwide Network of successful Entrepreneurs and you can re-attend the program as many times as you like, any where in the world, in any language – for FREE!
Many graduates are stunned, surprised and amazed to discover the powerful Chinese Money & You® graduate network which spans the Asia Pacific Region – from China, Taiwan, Hong Kong to Singapore, Malaysia, Brunei, and many other countries as well.
The business opportunities are only limited by your imagination.
In 1998, Willson Lin, the co-founder of Doers Group of Companies attended Money & You® and loved it. He is from Taiwan with offices throughout the Asia Pacific region. His experience of the program not only transformed the way he did business, but inspired him to take this powerful, transformational entrepreneurial program into the Chinese world. He is now a key player in introducing Buckminster Fuller and the win/win principles taught in Excellerated Programs into the exploding Chinese presence in the business world, thus supporting greater harmony and understanding between the Chinese and Western cultures.
In May of 2005, we celebrated the 100th Chinese Money & You® – a milestone and an absolute tremendous achievement by the whole Doers Group team. This wondrous event is one that has opened the door to a global future presence for all Excellerated Graduates. And also, as a result, the Excellerated Business Schools® for entrepreneurs is now presented (sometimes twice) each year – in Chinese!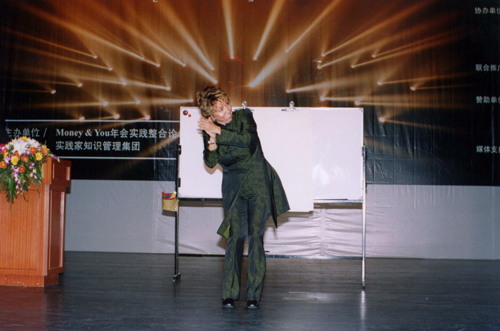 The Doers Group supports and is aligned to the purpose and mission of Excellerated Business Schools®. Together the two organizations are educators who have philanthropic notions. They are devoted to helping other people, children, and families especially through charitable assistance. They have contributed to orphanages and have even funded 'Money & You®' Schools for whole villages in the heart of China.
To appreciate the scope of the work Willson and his team have undertaken, here is the list of countries and cities in which the Excellerated Programs have been conducted in Chinese:
Taipei, Taiwan
Taichung, Taiwan
Kaohsiung, Taiwan
Singapore
Kuala Lumpur, Malaysia
Hong Kong
Shanghai, China
Beijing, China
Shenzhen, China
Hangzhou, China
Zhenzhou, China
Ningpo, China
Shi Jia Zhuan, China
Nanning, China
Yiantai, China
Johor Bahru, Malaysia
Kuching, Malaysia
Muar, Malaysia
Penang, Malaysia
Miri, Malaysia
Kota Kinabalu, Malaysia
Darussalam, Brunei
You are welcome to log on to the Chinese Web site.
Profiles of Chinese Team: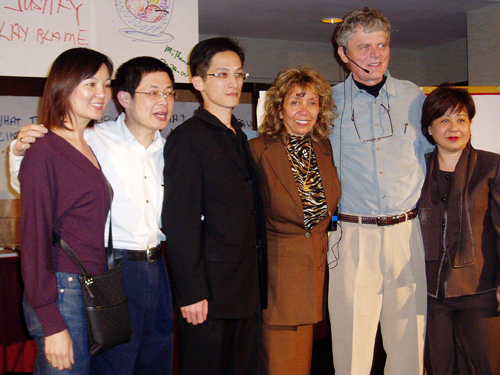 There are dozens of team members in the different Doers offices that support the on-going astronomical growth. Here are the Principals of Doers and some of the Team Members:
Dr. Willson Lin
President of Doers Group
Promoter and Leading Instructor of Chinese Excellerated Programs in the Asia Pacific Region
President of Doers Knowledge Management Group
Editor-in-Chief of ChengGong Publications
General Manager of Mandal Action Power Training
Certified trainer of ChengGong Consulting
Willson is well-known in the training field in the great Asia Pacific Region. He has been delivering trainings in Taiwan, throughout China, Malaysia, Singapore, Australia, and Brunei. With 16 international training licenses and certificates, Willson not only has the inter-personal skills to facilitate the learning process, but also has the humor, passion, and ability to motivate learners to develop themselves. The trainings Willson currently delivers, are centered around Money & You®, Sales and Negotiation, General Management, Behavior Management, Time Management, Direct Selling, Training for Trainers, Hypnotherapies and Personal Development.
With his well-deserved reputation, Willson became the only Chinese Instructor for the worldwide prestigious program, Money & You®. A brilliant, engaging, and entertaining presenter and speaker, he mesmerizes the audience to want to learn more. The great achievements of Willson also extends to his personal involvement with several non-profit organizations for children, adults, and elderly people. Owing to Willson's hard work and commitment to learning, he is both a thinker with wisdom and a doer with passion.
Robert Kuo
Vice President Doers Group
Co-Promoter of Chinese Excellerated Programs Asia Pacific Region
Chief Editor of Training Magazine (Chinese Edition)
General Manager of Buoguan Consulting
Certified trainer for Behavioral Learning.
Robert's training is centered upon the concepts of reflective learning and creativity, with great sense of humor to enhance the learning process. Having been in the training industry for more than 15 years, his training events are well received by many international companies such as Acer, Asus, TSMC, Microsoft Taiwan, 3M, Seven/Eleven, ING Bank, etc.
In addition to training, Robert also devotes himself to writing. He has so far published 18 books and several series of articles in diverse ranges of newspapers and magazines. Moreover, he also spends his spare time practicing stage performance in the theater. He is not only the trainer with great passion, but also a writer and a philosopher with the great wisdom.
His main training courses include:
Behavior Learning
Creativity
DISC
Personal Development and Communication
Emotional Intelligence and Conflict Management
Team Building and Development
Finance Management
Learning How to Learn
Dianne Butler
Worldwide Program Director Leader for the Excellerated Business Schools® for entrepreneurs and the Money & You Programs
Systems
Managing Partner of Law Firm, Perth, Australia
Dianne's forte is in systems, working with the Excellerated team as they expand their programs throughout the Asia Pacific Region and the world. She has maintained and advanced to excellence all Excellerated Production Manuals, which ensure the success of all programs by documenting step-by-step every action to produce excellent results every time, anywhere in the world, in any language.
Di has been responsible for the continued success of Excellerated Programs in the Chinese language through her documentation and training of the Program Directors in a different culture. Her professional background includes having worked as a Secretary in the Prime Minister's Department in Canberra, Australia. She has a teaching degree and Bachelor of Education, she has run Conflict Resolution Seminars; and has successfully raised a family while building her professions and businesses. She is also a Managing Partner in a Perth law firm with her husband, John Butler, a great advisor and supporter of the Excellerated organization.
Jason Zeck Lee
Chinese Excellerated Programs Malaysia Promoter
Chinese Money & You® Program Director
Entrepreneur
Trainer/Consultant
The first Chinese Money & You® Program Director for Excellerated Business Schools®, Jason brings an immeasurable list of skills that serve him well as a creative individual, trainer, and coach. Jason has held positions as a journalist, columnist, reporter, writer and speaker. Currently, he is the Chief Executive Officer (CEO) for Creative Group and is a corporate coach/trainer for Creative Knowledge Management Sdn Bhd and the Creating Training Network.
In addition, he holds the position of director of Creative Academy. A successful corporate coach and trainer, he has been involved in Corporate Training since 1998 in the Asia Pacific Region such as Malaysia, Hong Kong, Taiwan, and other parts of China, Singapore, and Brunei. Under the tutelage of Roger Dawson, the famous US Premier Business Negotiator, he is a certified Instructor for 'secrets of Power Negotiating.'
Adelene Bek
Entrepreneur
Money & You® Program Director
Adelene has been involved with Money & You logistics since 1998. Through her working in a voluntary position and participating on staff with several Excellerated programs, she was invited to train to be a Money & You Program Director. She possessed the essence of a leader and has been one of its most dependable, responsible and organized Program Directors.
As a graduate of Visual Arts Management, Adelene has always shown passion in many forms of arts. She is a very creative individual and artist. In addition to being artistic and creative she is also highly organized. These qualities and assets combined relay into her leadership role within the programs and in her business.
Her forte is in art exhibition management. She was an art therapist with a non-profit organization for mentally challenged clients. In addition, she was a gallery manager and assistant curator in a private art gallery in Singapore. She currently runs a retail outlet selling oriental / ethnic craft items and fashion apparels in Canada.
/wp-content/uploads/2015/05/MYlogotop.png
0
0
DC Cordova
/wp-content/uploads/2015/05/MYlogotop.png
DC Cordova
2009-11-27 14:39:05
2009-11-27 14:39:05
Money & You In Asia