Buckminster Fuller – The Library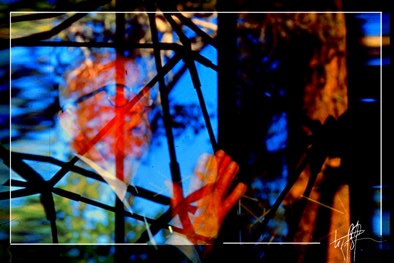 Photos by D.J. Hawkins
Dr. R. Buckminster (Bucky) Fuller
For access to more information, books and products based on the work of Bucky, check out http://www.BFI.org – the Buckminster Fuller Institute.
Dr. R. Buckminster Fuller – Bucky as we knew him – was an engineer, inventor, mathematician, philosopher, author, designer, scientist, a "cosmogonist," and a "new world" thinker. Bucky would call himself a "random element," other people have called him "an experience," a visionary, a prophet, the greatest living genius, the Leonardo DaVinci of our time, the Benjamin Franklin of the space age, and "Grandfather to the Universe. Bucky wrote over 35 books, received over 50 honorary doctorate degrees from universities internationally, more than 150 university fellowships, invented and patented over 110 inventions, is the most built architect in the world, and traveled internationally extensively as guest of state and invited lecturer. There is more written about Buckminster Fuller in "Who's Who" than any other person. Put his name in a "Google" search, and well over 2,500 references will be listed.
"I was born at an extraordinary moment. In 1895, the year I was born, the X-ray was discovered. You could then see what had previously been invisible. When I was 3, the electron was discovered. When I was 7, the first automobile drove into the city of Boston. I was brought up being told that it was inherently impossible for man to fly. When I was 8, the Wright Brothers flew. By the time I was 11, Marconi's wireless was in practical use to signal SOS. When I was 14, man got to the North Pole. When I was 16, he got to the South Pole.
So impossibles were happening seemingly every day. Evolution is integrating all humanity. We are accelerating together at a tremendous pace."
– Buckminster Fuller
Buckminster Fuller was one of the most successful humans in modern history.
Bucky Fuller's Famous Dymaxion Map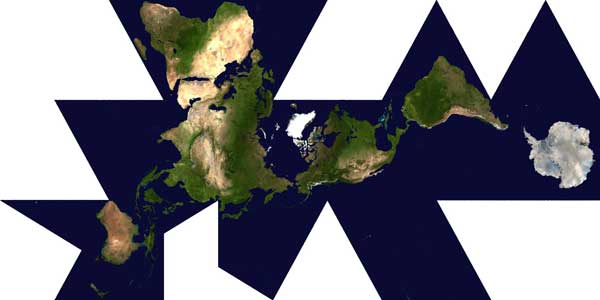 "The Rules…" Precessional Living Making
These are "the rules" to play by if you're going to be a "player" in the world of "True Wealth" creation. If you're not, you're wasting the planet's resources by being alive…
Not my "rules," AND I must agree. 😉 These are also the guidelines I was given by Bucky to run this Fuller Edutainment project. It has been the most difficult AND rewarding endeavor in my life.
Join me, if you have the guts to do it… It will be the best thing you've ever done… -Randolph Craft
A list of links to discover more about Bucky Fuller:
CJ Fearnley's List of Buckminster Fuller Resources on the Internet
View the author's home page at http://www.CJFearnley.com/.
Buckminster Fuller in the News
Sites with a General Perspective on The Work of R. Buckminster Fuller
Fuller's Writings On-Line
Bloggers with themes frequently related to Buckminster Fuller's Work
Sites Relating to Synergetics
Sites Relating to Fuller's Ideas About Human Society
Sites Relating to Geodesic Domes
Other Inventions of Bucky Fuller
Sites Relating to Fullerene Science
Miscellaneous Sites
---
You can also view the author's Bucky Fuller FAQ page at http://www.CJFearnley.com/