WANTED: New Entrepreneurs To Stimulate The New Economy…
Discover the Most Powerful Wealth Secret Used by Over 100,000 Successful Entrepreneurs from 65 Different Countries Worldwide…
Learn the same exact strategies that have helped industry leaders, influential experts and extraordinary people from all over the world to create the life they deserve.
People such as Robert & Kim Kiyosaki of Rich Dad/Poor Dad Series; T. Harv Eker, best-selling author; Morry Fraid of Spotlight Stores, one of Australia's leading billionaires; Dominique Lyone, Mega-Entrepreneur… plus many others are graduates of the Excellerated Business School® For Entrepreneurs (BSE)…
With over 100,000 participants having graduated from Excellerated Programs, we have learned by compressing years of training into an "Excellerated" eight-day program, the results are staggering.
The Excellerated Business School® for Entrepreneurs.
This is the world's premier education and networking course for serious business owners and anyone else interested in creating financial independence. This year's program has more key note speakers,more games, and more networking opportunities than ever before.
This is an intensive, fully residential eight-day program where you will learn the winning formulas and moneymaking secrets of some of the world's most successful entrepreneurs.
You will have the opportunity to join an elite network of leaders and entrepreneurs who are also enjoying a level of freedom that most people can only dream of!
We have hand picked outstanding entrepreneurs and business leaders to share with you their winning formulas for sales/marketing, people/organization, and money/finances; leverage, motivation, building winning teams, managing cash flow, communicating with power and passion, and most importantly, teaching you how you can stay ahead of the game!
These entrepreneurs were selected because they are exceptional in their field.
You will immerse yourself in the process firsthand. Rarely would you encounter such extraordinary entrepreneurs in your daily life.
This is an opportunity for you to network with entrepreneurs and business owners who are committed to achievement and growth.
This program incorporates a highly interactive process where you are led through an analysis of your current strategy–highlighting weaknesses and key opportunities. Excellerated Business School® graduates consistently report higher performance and job satisfaction. They recognize the value of what they have learned and have a new appreciation of their individual and team responsibilities.
Our graduates rank among the world's leading motivators, authors, business experts, entrepreneurs – will our next success story be yours?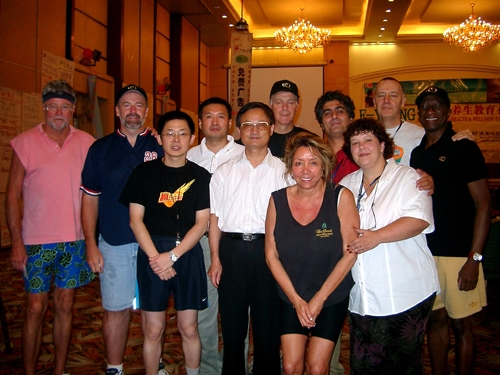 "Nobody should be allowed to have anything to do with running a business until they've attended the Excellerated Business School® for Entrepreneurs."
"BSE is an extremely intensive but highly enjoyable course that broke down my thought processes surrounding money and built them back up, instilling into my psyche the basic, but very important business principles of Leverage, Persistence, and Team. With this in my background, now in every business situation I come across I immediately utilize these tools.
After BSE, financial freedom was not only a possible outcome, it was the 'only' outcome. Before I attended M&Y and BSE, I was scraping by with only $200 dollars a week. And within two years, I had achieved more financially than I had thought possible. I became a millionaire within those two years, earning between $ 50,000 and $ 100,000 per month. I say this course is a must for anyone – whether they want to be a millionaire entrepreneur or just become financially comfortable."
Andrew Barron – Business Manager
Here's a sample of what you will discover:
How to

leverage and reinvigorate your passion

for business into a money-generating automated machine (when an Entrepreneur loses their passion, it is the first step towards disastrous consequences)

How to build motivated teams

of people that make things happen faster than ever before… work harder to make those goals a reality… and help make them feel a part of your success (many of our alumni report back that their turnover drops substantially, and they are subsequently able to selectively choose more superstars for their business)
Develop a mindset that will have you

experience "sufficiency" of wealth, resources and people

How to create the capital you need to build your business/organization faster – and with more impact

How to profitably buy and merge new businesses into your existing venture.

When you understand how to do this – rapid growth is guaranteed – and complimentary business divisions will become commonplace (if that is what you want, that is… some Entrepreneurs don't want to grow quickly in size – they would rather focus on strict profitability from your existing business – which is also covered thoroughly)
Technology tools to supercharge the way you learn, and retain

the skills you need to run an empire

A way to quickly LEVERAGE what you know and who you know, to accomplish more in the 12 months after graduating the Business School than you would have in the 12 YEARS prior
The simple change you can make to attract the right people into your life and your business
A "Secret Skill" you will master in the 8 days that ensures you never again worry about money
How and why

a game can teach you more in an hour

than it used to take you a week of constant immersion to master constant immersion to master
The simple way to

"clone" yourself within your business

so you CAN be free from what you have created (rather than creating a successful business but being chained to it, unable to even take a 2–week vacation)
How to deal effectively with your employees, suppliers and associates – and

turn them into your MOST valuable assets

You will know practical skills few take the initiative to learn
You will

understand all aspects of rapid-growth ventures

and how to manage, grow and capitalize from everything you learn
You will have experienced training unlike anything you have ever experienced before
You will have

a million-dollar rolodex

of like-minded, highly skilled Entrepreneurs like yourself. You will also be trained in how to best work with your rolodex to leverage the goldmine at your fingertips

You will be educated in:

start–up, marketing, advertising, trade show mastery, business presentation skills, finance, operations, sales, human resources, time management, team building, advanced learning skills, organization, joint ventures, leveraging others – and everything else you need to know to make this the last big investment you need to make in your Entrepreneurial success
Plus, when your enroll you also get access to the Excellerated Business School® for Entrepreneurs One-Year Excellerated Masters' Program
For this event, there will be participants (and alumni) from all around the world: Australia, New Zealand, United States, Canada, South America, Europe, Singapore, Malaysia, Brunei, Taiwan, Hong Kong and China. There will be translation for Chinese alumni who have wanted to come to the United States and have contacts in a network that they can trust. Just think of the networking opportunities!
The One-Year Excellerated Masters' Program includes:
Participation in the Eight-day Excellerated Business School® for Entrepreneurs, plus a Bonus Day

which includes meals, refreshments, classroom materials – where you'll experience working with a group where you'll create, plan, and build a complete business in 8 days!

Quarterly Excellerated Entrepreneurial Days

that are run in tandem with Money & You® and Business School events.

A year's membership into the Excellerated Mentorship program

which will be taught monthly by several of the Masters from our global network that will be teaching at the School.

A Life-time membership to any future Business School® for Entrepreneurs for FREE anywhere in the world in any language.

You arrange your travel and hotel accommodations only.
Don't let ANYTHING get in the way of you attending this extraordinary event.
Curriculum
Building on the distinctions you learned in Money & You, at Excellerated's Business Schools® for Entrepreneurs you will be amazed at how fast you can learn a year's worth of business education in just eight action- and fun-packed days. Through games and activities that test all your limits, you will get not just theory but actual discovery and practice of exactly what works in those areas that make the most difference in your success:
Money and Finance
Sales and Marketing
People and Organizations
To accomplish this, the participants learn how to stay ahead of the revolution. You will learn from the best "Master" entrepreneurs and business leaders who not only spend classroom time, but meal and breaks to share with you over the course of eight days their winning formulas in:
Financial strategies for non-CPA's
The "nuts and bolts" of Raising Capital
Strategic Planning
Sales and Marketing
Leveraging intangible assets
Marketing off-line and on-line
Staying motivated
Building High Performance Winning Teams
Managing cash flow
Communicating with power and passion
Negotiations
Organizational Systems
And how to add value to each and every client while expanding all your spheres of influence
You will get a personal experience of how to do "more with less" as you put into practice the SECRETS to CREATING A MULTIMILLION DOLLAR BUSINESS, including:
How to get your business to work without you through total leverage
How to hire and get the right people in the right roles
How to predict and profit from the future
How to capture new markets and become a global business
Instructors
Since 1979, the Excellerated Business Schools® for Entrepreneurs has been bringing together a group of highly motivated, energetic and experienced facilitators who are experts in their fields. They will spend eight full days out of their busy schedules with you!
The Instructors will give you the tools, inspiration, and expertise required to put your ideas into practice. Spending eight days at the business school, in dynamic sessions, with like-minded entrepreneurs will enhance your perspective and help you jumpstart your next business venture.
Business School for Entrepreneurs is taught in both English and Chinese – using interpreters where needed. Chinese BSE's are led by our Chinese partner, Willson Lin. All the Current Instructors and Guest Speakers at Excellerated Programs are successful entrepreneurs in their field of endeavor. If you click in the list below, you will find a list of Past Excellerated Programs Instructors from 1979 which have included Notable entrepreneurs and masters in their fields.
Locations
Excellerated Business Schools® for Entrepreneurs are held in several countries and languages.
To find out more, call us at 1-619-224-8880
---
"In 1986 when I attended BSE, I was Operations Manager of Spotlight Stores, a chain of domestic textile retailers consisting of 12 stores in the Melbourne (Australia) suburbs and Victoria. As a result of putting the business skills into practice that I and others learned from the program, the company grew from the 12 stores (turnover of $35 million) to 32 stores nationally (turnover of $135 million) in 1990."
Morry Fraid, Managing Director, Spotlight Stores
(Spotlight Stores are wholly-owned by Morry Fraid and Reuben Fried – with a turnover of over A$3.5 billion)
"I consider the Business School a must because I am interested in playing at a whole new level in my business career and personal life. My experience is that success in business requires, not only basic financial, marketing, accounting, planning, etc. skills but also an enlightened spirit. Whether you are an MBA or an aspiring business person, the Business School feeds your mind and your heart. Just do it! "
Keith Cunningham – Business Consultant, Author – Keys to the Vault
"My company's growth increased by 30% and profits went up 42% in the year following the Excellerated Business School for Entrepreneurs."
Robert Shannon, Managing Director
"I returned from the Excellerated Business School® for Entrepreneurs with a clear two-year plan to get me out from behind the scenes and into my own talk show. I accomplished my two-year plan in two months. Today, I not only have two of my own shows on Sydney's leading radio stations, I returned home with more energy and excitement to form my own PR firm."
Susan Yates, Radio Personality, Managing Director
"Money and You® has UNLEASHED the REAL GEM in me, REMOVING MAJOR STUMPING BLOCK in my life and giving me CLARITY to achieve my dream. But it was Business School® for Entrepreneurs (BSE) that provided me with the tools, skill set, knowing and network that polish the gem within to shine even greater! If there are only two programs that you need to attend this year, make it Money & You and BSE!"
Ken Chee – Managing Director
"People have always said that I had lots of potential. I knew that too. I was sick and tired of 'potential'. It was time for me to convert that potential into tangible results that would pay off in business, financial and personal success. BSE was just what I wanted. It delivered brilliant new business information and, most importantly, it brought out the best in me. Because of what I learned, my team and I are taking bad situations and turning them into profitable opportunities."
Herman Wright, Executive, Prudential Assurance
"I am unsure how to condense the most physically, mentally, emotionally and spiritually combined 16 days of my life into a into a short testimony. The days were filled with exciting new challenges every hour, instructors who made learning a joy and fellow classmates who asked more of me than I asked of myself. Time sped by as I pushed myself to my limit and then went further and discovered a whole new powerful me. I studied, I ran, I swam, I laughed, I cried, I learned, I demonstrated, and in the middle of it I celebrated a birthday, which was the perfect way to start my new and improved life.
Not a day goes by that I don't have the opportunity to apply numerous ideas and principles learned at the Business School, and letters, faxes and phone calls keep me in touch with the many new friends from around the world. As Helen Keller said, 'Life is either a daring adventure or nothing'. I truly feel that I am now living a wonderful adventure, and being a week at the Business School was the best gift I have ever given myself!"
Michele Henkle – Business Owner
"The Business School simultaneously challenged all I knew about business – and integrated all that I knew about business. It provided me with experiences on every one of the 16 days to re-evaluate my assumptions, my perceived limitations and my beliefs about who I am and what I can accomplish. The skills I gained in negotiating, selling, marketing, planning, accounting, learning and thinking strategically have contributed to me contributing even more to my firm. I was fortunate to return to a business team who kept our company going and growing while I was gone.
I have already landed one significant new client for us, and have new ideas and strategies just beginning to take form for our future. Something that will stay with me forever is the closeness I developed with people around the world. I remember looking at the stars with some of my Australian friends and realizing that, although we had grown up under different constellations, we were of one heart in what we wanted to accomplish for our families, our communities and our world. I will always treasure the discovery that, all along, I've had a 'sister' from Ireland and a 'grandmother' from New Zealand who will be with me forever. I will cherish holding a dear friend as he wept with gratitude for his family and how he knew he had a whole new set of abilities to provide for them when he returned home. And I will always remember the members of my running team, who taught me that I would allow others to love and support me. I feel blessed to have experienced the Business School and feel solemnly obliged to contribute to the world since attending. It was one of the biggest challenges and privileges of my life."
Debra France – Entrepreneur
"I went to the Business School to increase my awareness, my understanding of business and to meet new people. I achieved my goals and more. Unlike Money and You, where I returned home every night, I stayed in the 'space' of the Business School for 17 days straight, 24 hours per day. The impact and results of the Business School are still being experienced, and I highly recommend the Business School to all."
Byron Van Arsdale – Business Owner
"I went to the Business School expecting it to be fun, but also expecting to be worn to a frazzle by the end. I had heard of the long hours and many projects assigned during the 16 days, and I expected the worst. What I discovered was that I was totally energized by the Business School. Although I would have slept more if I had been at home, I was surprised because I found my energy level increasing during the course of the school. Operating in an environment of highly creative, motivated people who want to learn and want to make a difference in the world just made me more and more excited.
My most clear lesson was the importance of my team. I could not have sustained my energy or attention without the unconditional love and support that developed between my teammates and I. It is one thing to study teamwork and synergy, and it is entirely different to experience it intensely for 16 days, and know how we created it. I have a totally new understanding of cooperation within a team now. I had so many other lessons. I now know that I can understand in ways that I can't explain but that I can trust, because I have proof that it works. I learned how to allow my own true salesperson to come forward, and sell in a fashion that is congruent with my self. And I was constantly inspired, challenged and delighted for the entire 16 days. I can't say what you might learn at the Business School, because so much is offered. But I can say that you will have an opportunity to learn and experience your greatness at a whole new level."
John Cook – Business Owner
"BSE was extraordinary! What an experience. It pushed me to another level! It is a 'must attend' for people that want to go for it in life. An extraordinary lifelong experience. BSE is a journey of self-discovery and truth. Fun-tastic program that drives every soul of businessmen up the wall."
Eddie Soh – Business owner
"At the time I took the Business School for Entrepreneurs, I was a single mother just going through a divorce and was reaching out after being home for 15 years for new directions. I wanted to put transition seminars together for others. In M&Y I learned what I had been going through was called "perturbation" – and that when I see that coming, I can get through it. My girl friend, Carol Dysart, and I created a PERT chart at the Business School for a fantasy project of creating a computer store. And within only a few months it actually came true! I learned I could reach outside of the box, that I can make it through anything if I keep applying the principles and do it with integrity."
Lee Crowley – Health Care Industry Consultant
"Before M&Y and the Business School, life was about making as much as I could and taking advantage of anyone because where I came from, money was the measure of success. I learned how to serve other people and by so doing, true wealth was possible. I now teach the planning principles and made a video with Buckminster Fuller (Bucky) teaching at BSE, before he died. What I know is that Business School and my relationship with everyone there turned me from an artist who was simply making money into someone who has a life they can be proud of and that can live the rest of their life feeling good about what they have done."
Randolph Craft – Business Owner – Consultant
"Many subjects are covered by the most dynamic speakers I've seen – well-trained and who know how to communicate what they know to others. Every time I can I come back and value being able to reconnect with people who give me a lot of good energy. It is something that everybody should do if they want to get on the fast track and don't want to miss out on what is possible. There is an unbelievable precessional (bi-products) effect from the action of coming back and 're-getting' the principles."
Marianne Hagen – Management Consultant
"I highly recommend this BSE program – especially for those who are young and want a good head start. I know I can apply it to every aspect of my life."
Leonard Khoo – Student
"If this week could be repeated for all top leaders and managers, the whole community – and ultimately the world – would change for the better. BSE teaches that wealth can only 'increase.'"
Stanley Nyu – Entrepreneur
"The lessons here at BSE are so profound that anyone who wants to really shift up a level or raise their bars would definitely benefit from it tremendously. It not only taught me the real sense of business but I learned about myself. It was a journey of self discovery which is a process which will lead me to be a better human being and to reach a higher level of evolution."
Elaine Tang – Holistic Nutrition
"What I learned changed everything I do in my like and how I go about doing it. I was able to support Bucky in his work for several years. I designed and built a 10,000 sq ft geodesic dome house in Malibu after Business School and Bucky's family and friends became part of my life. I learned how to lead the course and have been to many BSE's and 60 M&Y's since then. It has been the best time in my life. I now live in Hawaii and it seems that everything in my life has been affected by this course. Marshall even taught the Deming Quantum Learning principles into my son's school."
Jerry Weinerth – Entrepreneur
"This school is designed for teaching MASTERY."
Peggy Lee – Business owner
"The BSE was like a 'Top Gun' flight school. It is truly only for a select type of elite business owners and seriously committed entrepreneurs."
Ko Hayashi – Managing Director
"Thank you for having such an environment for me to open up myself to feel who am I."
Emily Khan – Student
"I just want to say again how wonderful M&Y & BSE have been and the change this has made in my life. I feel that after M&Y & BSE, I am more connected spiritually with myself. I thank you again DC and Wendy for continuing to come into my life and add value. I really don't know how to repay you."
Steven Song – Brunei Entrepreneur
"My experience in Excellerated Business School® within those 8 days amazed me!!! A spiritual experience of caring, love, fun, giving, sharing, teamwork and learning. With all the humbling experience (physically and mentally) which I went thru penetrated me in my deep thoughts. Thus, this added me a new dimension to my life. I walk away as another person with more passion. That's ME now!!!! I sincerely thanks to all BSE teams, Globe Success and the enlightened masters for giving all your support to lead me to the path of success."
Tracy Yu – Entrepreneur
"I returned from the Excellerated Business School® for Entrepreneurs with a clear two-year plan to get me out from behind the scenes and into my own talk show. I accomplished my two-year plan in two months. Today, I not only have two of my own shows on Sydney's leading radio stations, I returned home with more energy and excitement to form my own PR firm."
Robert Shannon – Managing Director
Testimonials from BSE Evaluation Forms:
• "For $5K, I learned in this Business School has had a far greater impact than what an American MBA costing US$60,000 can offer!"
• I will be able to be more self-disciplined now and get things done efficiently. Business school has given me a learning experience and a knowledge of what to avoid in the my real life."
• "So much great value and great people at BSE. It is just beyond my words of descriptions. It is an experience of a lifetime that no one should miss."
• "BSE is the best training ground for entrepreneurship! Brilliant instructors and support team. I now believe more in my self and what I can really achieve. I will have a great network and relationships that will last a whole lifetime. Valuable mentorship!"
• "It is certainly a worthwhile investment. Once you get it, the rest takes care of itself!"
• "Excellerated Business School® was great. It was the most fascinating experience. I intend to come back as a participant again in the near future. I learned team synergy and how to think outside of the box. BSE is an evolution to the traditional way of school teaching entrepreneurship. It not only taught me business; it also gave me more self awareness and people skills."
• "I have learned that in the business world not everyone is a "shark" and that the world can be a better place if people are willing to implement values that I learned within this 8 days."
• "At BSE I found I could move out of the comfort zone in speaking to unknown people. I removed a lot of blocks in my marketing skills at the subconscious level."
• "The school has created a breakthrough in my life."
• "The values I received from this BSE are: • Discovery of myself through games • Encounter and experience with the Masters • Found new friends in the various teams • Learned new business skills and knowledge."
• "The BSE has empowered my life. My business and personal life can only go upwards from now on."
• "BSE is an extremely powerful experience. The information and distinctions you get from this course are awesome!"
• "Fantastic program! Highly recommended!"
• "I have two businesses – advertising and healthcare. I have learned so much from BSE that will add value to both my businesses, such as the value of team work, the essence of time, investment, raising capital and other business principles."
• "BSE was extraordinary! What an experience. It pushed me to another level! It is a 'must attend' for people that want to go for it in life. An extraordinary lifelong experience."